MISSION STATEMENT
Since 2015, we've been operating in the fields of Recruitment and Selection, Human Resources Consulting, Training and Assessment Center, embracing the ultimate goal of broadening the horizons of both people and other organizations, all while surpassing expectations and maximizing mutual benefits.
WE EXCEL AT...
…finding new career opportunities for you.
Because we're committed to understanding each person's motivations, so that we can better advise which projects are right for each person. We present personalized job offers and promote safe transitions into contexts in which you'll find personal and professional growth.
Our language courses.
As a requirement for most of the best job offers in the international market, learning a foreign language is crucial when your goal is to evolve professionally. Our Language Academy is your answer to that need.
Creating symbiotic relationship with our clients.
To a profound knowledge of our partner's cultures, we add a vast know-how and the capability to embrace common goals, always safeguarding the best interests of the organizations we represent.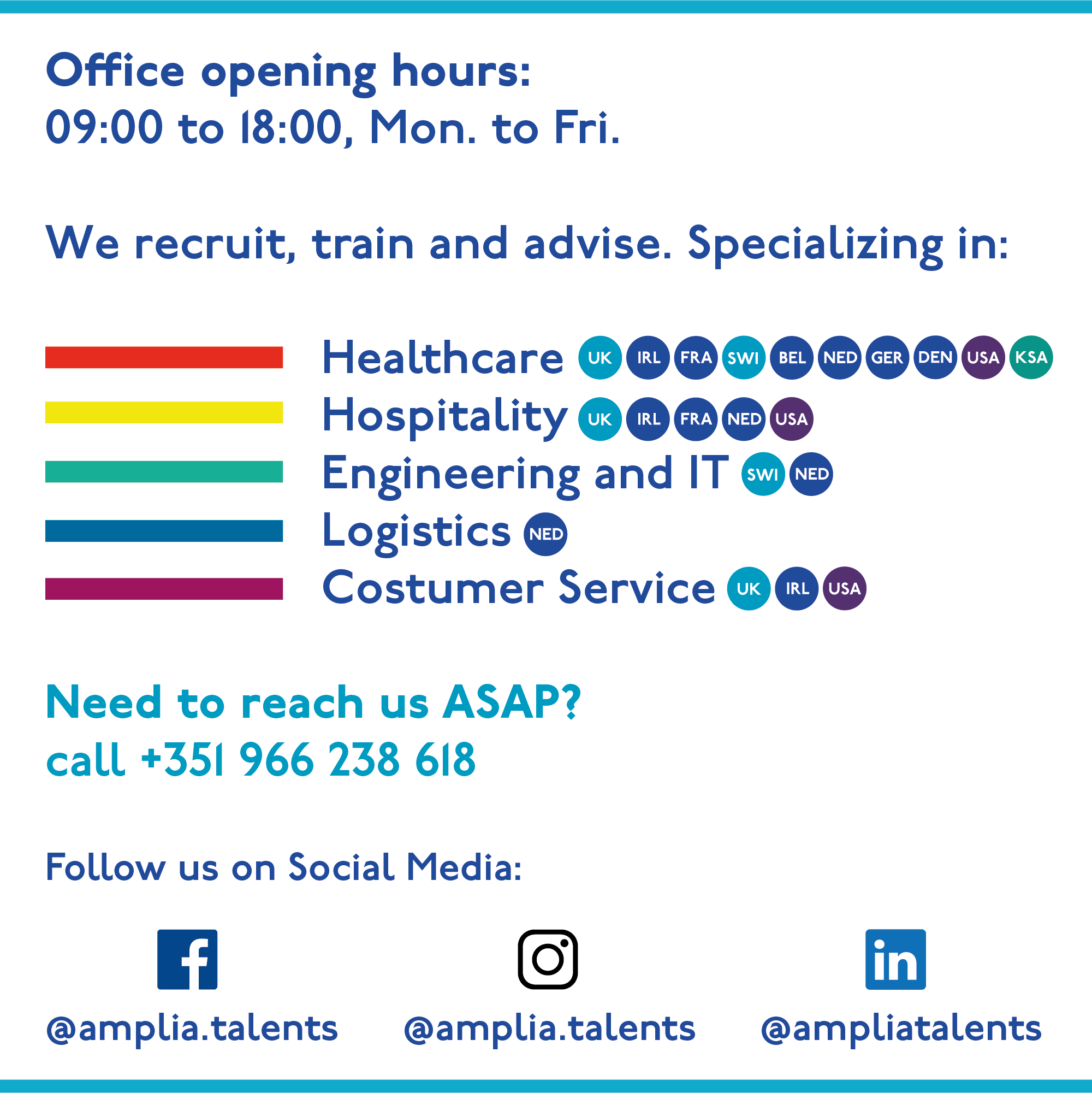 Here are some of our job offers. If you see anything you like, it's easy: just click on the "apply" button and it'll immediately open up an email to the Amplia consultant in charge of the process. You can ask all the questions that come to mind; if you want to submit an application immediately, though, just specify the position you're interested in and attach an updated version of your CV. We'll do our best to keep this section updated, but there's always a lot of opportunities coming up that might not be featured in the website. When in doubt, reach out!

Since 2018, we've been promoting international career opportunities in the United States, directed at both seasoned industry professionals and new graduates from Hospitality and Tourism schools. Selected candidates will have the chance to sign a contract (6 to 12 months, with an open contract renewal option) with one of several world-class country clubs we're currently collaborating with, located mainly in the scenic coasts of the state of Florida. It's a once in a lifetime experience, in which you'll have the privilege to learn from world-renowned American professionals and hone your skills in a highly demanding work environment.
Winter Season: 6 to 8 Months (from October to May), in Florida;
Summer Season: 3 to 4 months (from June to September), mainly in the Northeastern US – for Winter Season participants only.
Applications open through June! Schedule your appointment with Amplia – successful applicants will be referred to the country clubs.
The Amplia Language Academy was conceived as way to respond to one of the most fundamental questions in international recruitment: how to make sure that candidates acquire the necessary communicational skills required by local Professional Councils, or even by prospective employers. While independent from our recruitment processes, Amplia recognizes the benefits of combining these two services and is always available for consult, if our students wish to outline a career project with us.
B2 LEVEL
200 HOURS
(ONLINE)
Mainly for Healthcare professionals who aim to build a career in the French-speaking world.
From Dentists to Nurses, to Physicians of all specialties, this course will provide general training in the French language, as well as specific preparation for the interviews with the local regulatory agencies.
A shorter course, designed specifically for Hospitality professionals, is also available.
C1 LEVEL
400 HOURS (ONLINE)
Designed for Healthcare professionals.
This language training program specifically addresses the imperative need to prepare the AKV exam, mandatory for all medical personnel who are looking to practice in The Netherlands.
Candidates who wish to do so – especially Dentists and Nurses – can simultaneously apply for one of the many career opportunities in Dutch Healthcare facilities that Amplia is continuously promoting (check out the "Candidates" section of our website).
B1, B2 AND IELTS PREP
80 HOURS FOR EACH LEVEL
60 HOURS FOR THE IELTS PREP COURSE
(ONLINE)
General training in English for professionals of all sectors.
We also promote an intensive course to prep candidates for the IELTS exam, specifically for those aiming for the 7.0 global score.
A C1 course is also available, as well as private lessons and crash courses for people in need of quickly improving their English level.
B2 LEVEL
200 HOURS
(ONLINE)
Usually – but not necessarily – coupled with one of Amplia's career opportunities in Germany, Austria or Switzerland.
This course will provide general training in German, as well as specific preparation for any interviews at local regulatory authorities.
Nurses, in particular, have a tailor-made course available, designed for the specific demands of their profession.
To know more about our personalized language courses and career management vision, schedule a meeting with one of our consultants.
RECRUITMENT FOR COMPANIES
ASSESSMENT AND DEVELOPMENT CENTER
As specialists in a multitude of processes related to training and managing people across several sectors, we're capable of outlining personalized plans, fitting of all types of companies, all while keeping in mind your corporate culture and goals. Schedule a meeting with us to find out more about Amplia's background.