MISSIONE
Dal 2015, operiamo nelle aree di Reclutamento e Selezione, Consulenza Aziendale, Formazione e Assessment Center, avendo come missione ampliare gli orizzonti delle persone e delle organizzazioni, superando le aspettative e massimizzando i benefici reciproci.
IL NOSTRO PUNTO DI FORZA È…
…trovare nuove opportunità di carriera per te.
Perché ci impegniamo a comprendere le tue motivazioni, cercando di consigliare il progetto giusto per te. Ti presentiamo proposte di lavoro personalizzate promuovendo transizioni sicure in un contesto professionale che ti porteranno a raggiungere una valorizzazione personale progredendo nella tua carriera.
I nostri corsi di lingua.
Uno dei requisiti fondamentali per i migliori lavori nel mercato internazionale, è senz'altro imparare una lingua straniera. La nostra Language Academy è la risposta a questo bisogno crescente per intraprendere una carriera internazionale.
Creare una relazione di simbiosi con i nostri clienti.
Ad una profonda conoscenza della cultura aziendale dei nostri clienti, aggiungiamo un know-how altamente completo e la capacità di avere obiettivi comuni, salvaguardando sempre l'interesse delle aziende che rappresentiamo.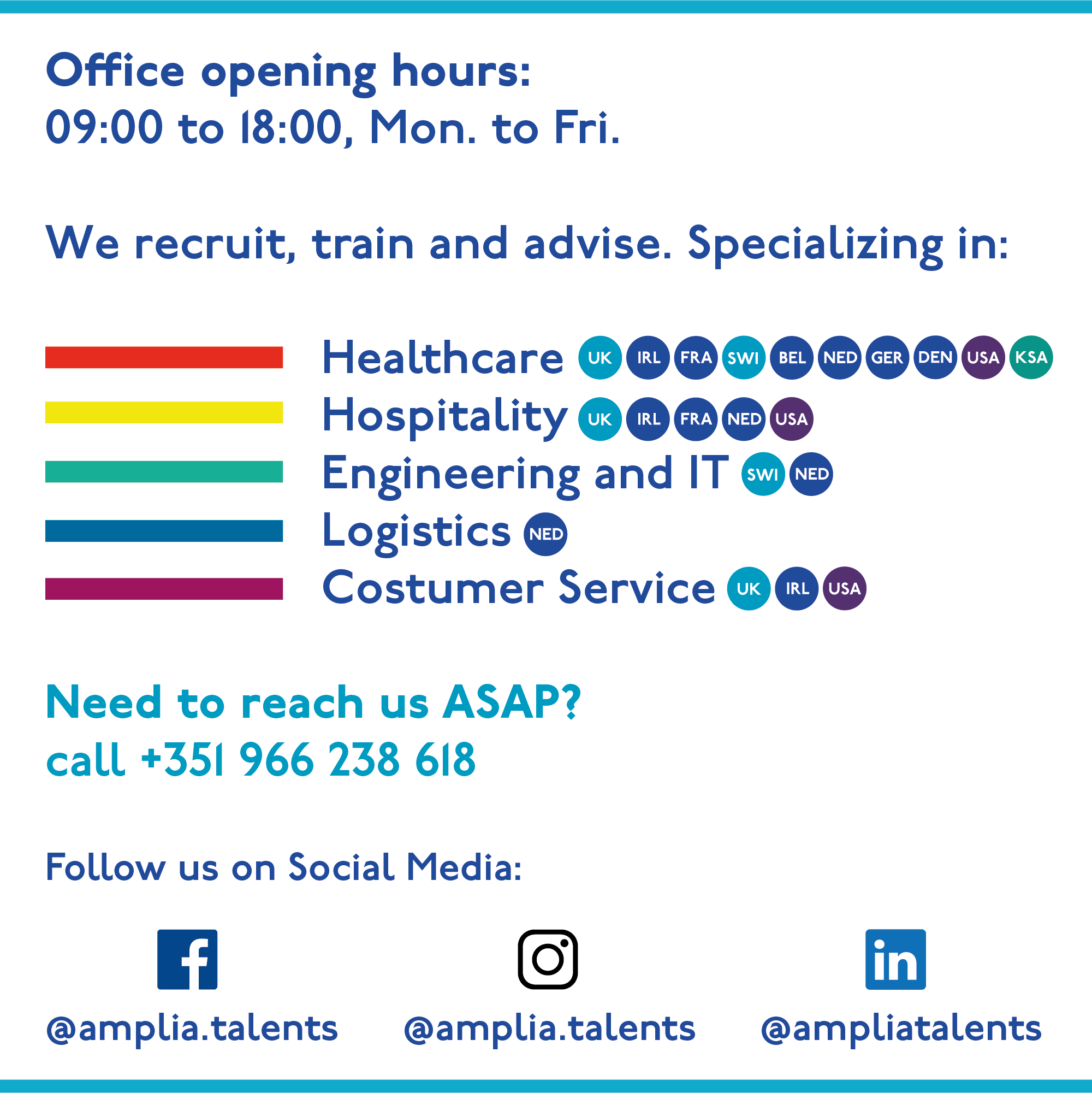 Di seguito potrete consultare alcune delle proposte di lavoro di Amplia. Un click sul tasto per l'invio della candidatura ed aprirà automaticamente un'e-mail indirizzata al consulente responsabile del progetto, e gli interessati dovranno specificare nell'oggetto dell'e-mail il nome della posizione ed allegare una versione aggiornata del proprio CV. Consultate regolarmente il sito per nuove proposte lavorative.

Dal 2018 promuoviamo opportunità di carriera internazionale negli Stati Uniti, rivolte sia a professionisti esperti del settore che a neo diplomati delle scuole di Ristorazione e Turismo. I candidati selezionati avranno la possibilità di firmare un contratto (da 6 a 12 mesi, con un'opzione di rinnovo del contratto possibile) con uno dei country clubs di livello mondiale con cui stiamo attualmente collaborando, situati principalmente sulle coste della Florida. È un'esperienza unica nella vita, in cui i candidati potranno avere il privilegio di imparare da professionisti americani di fama mondiale e affinare le proprie capacità in un ambiente di lavoro molto esigente.
Winter Season: da 6 a 8 mesi (da Ottobre a Maggio), in Florida;
Summer Season: da 3 a 4 mesi (da Giugno a Settembre) principalmente nel Nord-Est degli US – soltanto per i partecipanti della Winter Season.
Candidature aperte a partire da Giugno! Fissa il tuo colloquio con Amplia – le candidature positive saranno riferite ai country clubs.
Amplia Language Academy nasce con l'intento di dare una risposta a una delle questioni fondamentali del reclutamento internazionale: come assicurare che i candidati si presenteranno con le competenze necessarie davanti al proprio futuro Ordine professionale, oppure davanti al proprio datore di lavoro. Indipendentemente dai nostri processi di reclutamento, Amplia ha riconosciuto i benefici di combinare questi due servizi e sarà sempre disponibile per una consulenza, se i nostri studenti avranno il desiderio di intraprendere un progetto di carriera con noi.
B2 LEVEL
200 HOURS
(ONLINE)
Mainly for Healthcare professionals who aim to build a career in the French-speaking world.
From Dentists to Nurses, to Physicians of all specialties, this course will provide general training in the French language, as well as specific preparation for the interviews with the local regulatory agencies.
A shorter course, designed specifically for Hospitality professionals, is also available.
C1 LEVEL
400 HOURS (ONLINE)
Designed for Healthcare professionals.
This language training program specifically addresses the imperative need to prepare the AKV exam, mandatory for all medical personnel who are looking to practice in The Netherlands.
Candidates who wish to do so – especially Dentists and Nurses – can simultaneously apply for one of the many career opportunities in Dutch Healthcare facilities that Amplia is continuously promoting (check out the "Candidates" section of our website).
B1, B2 AND IELTS PREP
80 HOURS FOR EACH LEVEL
60 HOURS FOR THE IELTS PREP COURSE
(ONLINE)
General training in English for professionals of all sectors.
We also promote an intensive course to prep candidates for the IELTS exam, specifically for those aiming for the 7.0 global score.
A C1 course is also available, as well as private lessons and crash courses for people in need of quickly improving their English level.
B2 LEVEL
200 HOURS
(ONLINE)
Usually – but not necessarily – coupled with one of Amplia's career opportunities in Germany, Austria or Switzerland.
This course will provide general training in German, as well as specific preparation for any interviews at local regulatory authorities.
Nurses, in particular, have a tailor-made course available, designed for the specific demands of their profession.
Per saperne di più sui nostri corsi di lingua personalizzati e per il concetto di gestione di carriera, fissa un meeting con uno dei nostri consulenti.
ASSESSMENT E DEVELOPMENT CENTER
CONSULENZA IN RISTORAZIONE E TURISMO
Come specialisti in molti processi di formazione e gestione di personale in diversi settori di attività, possiamo progettare piani specializzati, a seconda del tipo di azienda, considerando sempre la cultura aziendale e gli obiettivi. Per conoscere più dettagliatamente le competenze di Amplia, richieda una riunione con noi.